A piece of family tradition
MEYER'S BITTER
Ancient, but not antiquated
MEYER'S BITTER has been produced using an unchanged recipe for six generations. More than forty selected herbs and roots form the basis for the bitter spirit of the Meyer family, who developed this speciality back in the 18th century. MEYER'S BITTER has been awarded several gold medals in international spirits competitions.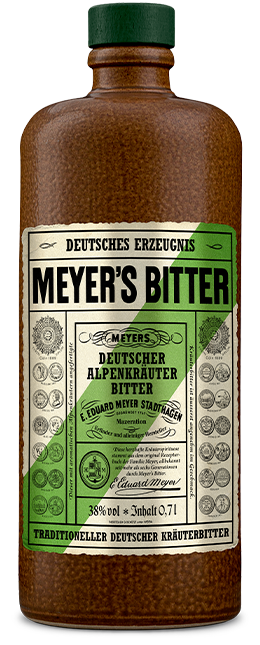 With over 40 hand-picked herbs and roots
MEYER'S BITTER has always been produced using the same recipe
Intense flavour with an alcohol content of 35% ABV.
Spicy change of pace
Distinctive flavour with 40 hand-picked herbs
With over 40 herbs and roots, Meyers Bitter Deutsche Alpen-Kräuter or Meyers Bitter Wald- und Feldkräuter provide a spicy change of pace after a meal or in a social setting as a shot. The almost black colouring of the bitters is as characteristic as its taste. Connoisseurs greatly appreciate this combination.
MEYER'S BITTER Wald- und Feld-Kräuterlikör
0.7 l clay bottle
MEYER'S BITTER Deutsche Alpen-Kräuterlikör
0.7 l clay bottle
CATERING INDUSTRY
We are the turbo for success
We are the specialists for creative marketing solutions and successful brand management. With our in-depth expertise in the catering industry, we make our brands emotionally tangible on the scene over and again. This is where the brands of the MBG Group are at home. This is where their journey begins. This is where they become successful. In two of the three properties in Germany's top restaurants, our brands are on the menu and generate tasty sales.
Over 14,000 catering customers
Over 850 connected beverage wholesalers
Almost 70% of Germany's top restaurants trust us
RETAIL SECTOR
POS expertise across the board

Taking place in nightlife, we present our brands as unique experiences. This way, they are recognised and loved in retail. MBG Group brands are available at 40,000 food retailers. A further 800 beverage wholesalers and over 12,000 petrol stations have listed the successful brands. Thanks to specialists' comprehensive brand support, the retail sector achieves top results without comparison.
We support over 40,000 retail customers
We support over 50 key account centres
We supply over 12,000 filling stations
Brand Management
Andreas W. Herb
Phone +49 5251 546 0
Downloads
For more information, see the downloads below.